Christmas competition 2017 for pets.
Every year Daisy Blue runs a Christmas competition for cats &  kittens. The very first competiton was hosted in 2015 on our  enterntaiment website www.daisy.blue  , however, since Daisy Blue has now opened Crafts4Cats shop we decided  to make a small change to our entry rules. This year we welcome all pets: cats, kittens, bunnies, ferrets, dogs and puppies. Please see the details below.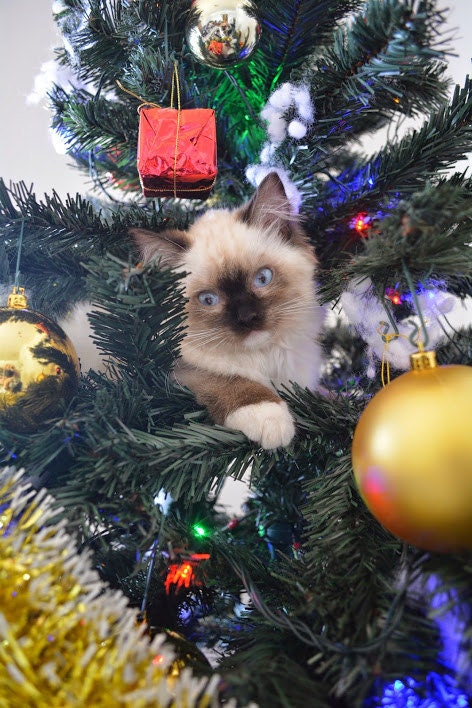 HOW TO ENTER THE COMPETITON 
Simply send a picture of your pet (cat, dog, ferret or bunny), please write your pet name and your name and a caption with what bad things your cat did or likes to do at Christmas. 
Photo must be in a CHRISTMAS THEME on your Google+ , Instagram page with a hash tag #XmasWithCrafts4Cats  , please do tag our user name to find your entries faster.  Alternatively, you can send your photo by email to  competition@crafts4cats.com 
More details: 
1. Photo must be of your own existing pet (no birds) in a Christmas theme. 
2. The photo should be in *jpeg* format. Gif files will not be accepted.
3. Only one photo per pet, please. :)  The competition is limited to 50 entries.  Start date 5 December and will last all  the way through 24 December. The winner will be announced on Boxing Day and will receive a surprise gift from Crafts4Cats. 
FAQ HOW MANY PHOTOS IS ALLOWED TO SUBMIT? You can submit one picture per pet. So if you have two pets, you can send two photos. BUT it should be YOUR current pet. 
HOW WILL I KNOW IF MY PHOTO WAS ACCEPTED? All photos will start appearing on our website crafts4cats.com/blog. Please check our blog regularly! 
Winners will be announced on a Boxing Day.